After graduating college in 1991, Leslie had planned to be a free spirit and travel for a while. Working the summer at St Mary Resort at Glacier National Park in Montana was to be her first stop. We had been dating since November, and as April approached, we knew we had a great relationship developing. I drove out west with her in a little 2-seat Honda CRX, catching a return flight before reaching the park. Back in Michigan, I tacked up so many pictures over my desk that my friends called it the Leslie Shrine.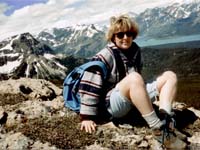 Leslie went out on a several adventures in the park, climbing mountains, hiking to waterfalls, and making excursions to Waterton Park and Calgary, Canada. It wasn't long, though, before waiting tables and scrubbing the resort prior to the height of the season lost its luster. We wrote each other nearly every day, and it became clear just how much we missed each other. After seven weeks, Leslie cut short her Montana summer and drove home, departing Glacier on June 21. Upon returning home, she gushed about the park as the most beautiful place she had ever seen, proclaiming when she died, she wanted her ashes scattered there.
On June 22, 2006, I arrived in Glacier National Park with Leslie's sister, Heather and her husband, Marc. We stayed at the lodge and ate at the restaurant where Leslie had worked. Our first destination was Divide Mountain. One of my favourite photos for the last 15 years was a shot of Leslie on an anonymous mountaintop with snowy peaks in the background. I had become obsessed with finding that needle in a 1,800 square mile haystack, and found it listed on only one guide website, which made me happy it wasn't a well-traveled tourist spot. The climb was more treacherous than I expected; we probably would have turned back had we not come across a couple summer locals who told us the steep scree was, in fact, the trail. (Afterward, I looked back at the website, realizing too late it was for serious climbers.)
Near the location in the photo, the three of us held a small memorial ceremony. As we set down our backpacks, Marc looked up to see a bald eagle flying overhead. We had definitely found the right spot. We read poems from the memorial services earlier in the year and toasted Leslie with a bottle of red wine. In a protected nook against an outcropping with the prettiest flowers on the barren slope, we placed a stone inscribed with her name, dates, and "It's not the length of life, but the depth." She is now forever overlooking that spectacular vista.
Click on photos for larger size.